About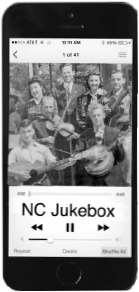 This project is focused on transforming an inaccessible audio archive of historic North Carolina folk music into a vital, publicly accessible digital archive and museum exhibition. Nearly 97 years ago and into the 1930s, Frank C. Brown, a Duke scholar, began recording North Carolina folk music and archiving it for posterity. Most of those recordings are still housed on glass disks in Rubenstein Library, but we already have about 400 songs for which we have digitized audio and handwritten metadata with which we can work on the initial version of what we are calling the proof-of-concept NC Jukebox project. For our project we envision converting this music to playable audio forms and making it accessible to the public in a variety of value-added, contextualizing digital and installation media exhibitions. We also want to prototype a database system to begin organizing and sharing the larger set of materials when they have been digitized later.
Our goals are:
To convert, document and archive the recordings to accessible form
To create contextualizing materials and metadata to frame the recordings
To create a library/museum exhibition of these materials to be made accessible via touchscreens and other interfaces
And to create downloadable MP3 albums of the music - the NC Jukebox - itself for common use
This project is supported by Bass Connections and the Franklin Humanities Institute
NOTE: This project is UNDER CONSTRUCTION - we are updating pages and adding materials over the course of 2016-17!